Special Meeting at the MIT Media Lab
This meeting features the work of three authors and is hosted at the Massachusetts Institue of Technology's Media Lab. Topics include brain circuits, polymer optics, and augmented reality.
Expansion Microscopy in Brain Circuits
Brain circuits are densely-wired, possessing organization at the nanometer level while spanning millimeters to centimeters in size. Understanding brain function demands the ability to observe the architecture and connectivity of the brain with nanoscale precision. Recently we developed an approach to physically magnify preserved cells and tissues, which we call expansion microscopy (ExM). Expansion microscopy isotropically magnifies cells and tissues, enabling super-resolution imaging on fast diffraction-limited microscopes, while also surrounding anchored biomolecules with a homogeneous aqueous environment appropriate for in-situ detection and identification of biomolecules. We present recent advances in ExM chemistry that have opened the door for the mapping of biomolecules with nanoscale resolution in brain tissue specimens. ExM may enable the mapping of biological components across extended length scales, appropriate for revealing the configuration of cells, organs, cancers, and other complex biological systems.
Asmamaw (Oz) Wassie, Synthetic Neurobiology Group, MIT Media Lab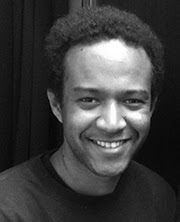 Asmamaw (Oz) Wassie is a Hertz fellow and a graduate student in the Synthetic Neurobiology lab at the MIT Media Lab. His research aims to develop techniques that enable the nanoscale mapping of biomolecules in tissues. He received his B.S. in Biological Engineering from MIT where he developed platforms for artificial olfaction.
Polymer optics: Lasers, axicons, gratings and much more
Polymer based optics and photonics has several advantages over its glass counterparts. Components can be manufactured using low cost routes. Manipulations like doping, shaping and molding can be carried out in a relatively facile manner. I will discuss a few specific examples where lasers, axicons and gratings have been demonstrated using polymeric materials. I will also present some fabrication techniques that form the basis of polymer based optical fabrication.
Anshuman Das, Camera Culture Group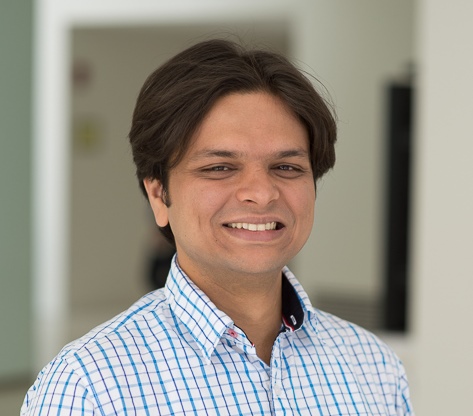 Anshuman Das is a postdoctoral associate in the Camera Culture Group at the MIT Media Lab and the MIT Tata Center for Technology and Design. Anshuman is interested in creating rapid diagnostics that are smart, predictive, and accessible and will improve the way diagnostics are carried out. Within the health diagnostics field he is exploring intersections with health diagnostics and optics, lasers, UV-VIS and Infrared spectroscopy. He is also interested in super-resolution optical imaging and soft matter based optical elements. He is currently working on smartphone bases skin imaging, electrical and optical sensing of infections, wide-angle endoscopy and designing smart otoscopes. Before coming to MIT Anshuman received his Ph.D. from JNCASR in India where he researched on light management, degradation, and electrode design in organic solar cells.
Reconstructing and Augmenting Reality with Holographic Displays
From the popular press to possibly-questionable crowdfunding proposals, "holographic" displays seem to be everywhere this year. But are any of these actually holographic? And if not, what is a real holographic display? In this talk I explain why true holographic displays are not as far from deployment as one might think, despite their massive electro-optical and computational requirements, and describe how they will provide the ultimate in interactive visual user experience.
V. Michael Bove, Jr., Object-Based Media Group, MIT Media lab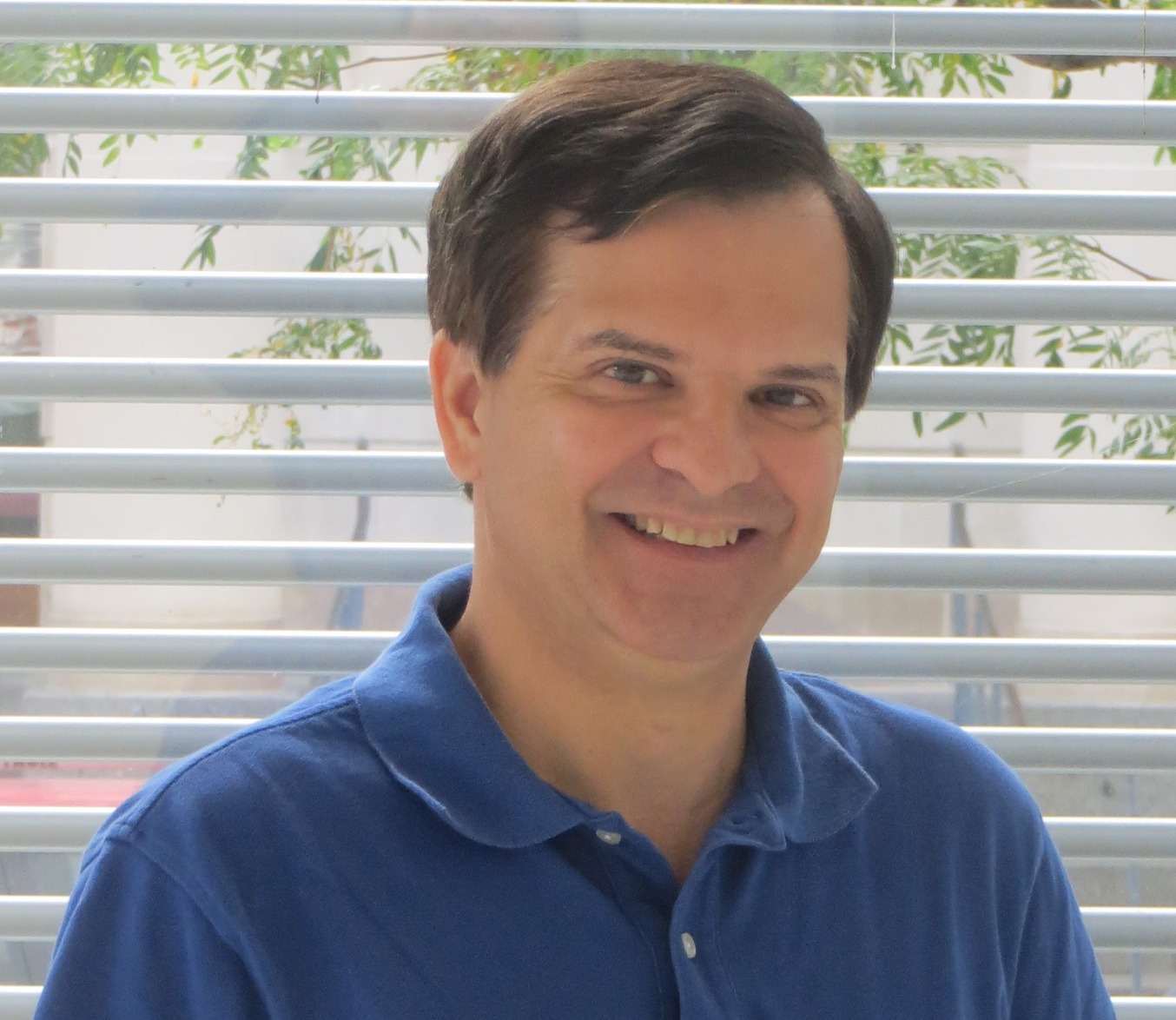 V. Michael Bove, Jr. holds an S.B.E.E., an S.M. in Visual Studies, and a Ph.D. in Media Technology, all from the Massachusetts Institute of Technology, where he is currently head of the Object-Based Media Group at the Media Lab. He is the author or co-author of over 90 journal or conference papers on digital television systems, video processing hardware/software design, multimedia, scene modeling, visual display technologies, and optics. He holds patents on inventions relating to video recording, hardcopy, interactive television, medical imaging, and holographic displays, and has been a member of several professional and government committees. He is co-author with the late Stephen A. Benton of the book Holographic Imaging (Wiley, 2008). He is on the Board of Editors of the SMPTE Motion Imaging Journal, as well as an Education Director for SMPTE. He served as general chair of the 2006 IEEE Consumer Communications and Networking Conference (CCNC'06) and co-chair of the 2012 International Symposium on Display Holography. Bove is a fellow of the SPIE and of the Institute for Innovation, Creativity, and Capital. He was a founder of and technical advisor to WatchPoint Media, Inc. and served as technical advisor to One Laptop Per Child (creators of the XO laptop for children in developing countries).
Reservations:
Dinner & Meeting reservations must be made by 6 PM, Monday May 16, 2016. We can no longer accept dinner reservations after this cutoff.
Meeting-Only registrations are appreciated by <Tuesday May 17, 2016 the day before the meeting. Walk-ins are acceptable for the meeting-only.
Please make online reservations via the "Click to signup" button above.
Reservations may also be left on the answering machine at (617) 584-0266. We no longer have an email address for reservations due to SPAM.
When making reservation requests, please provide the following information:
DINNER AND MEETING or meeting only
Name(s) and membership status
Daytime phone number where you can be reached (in case of change or cancellation)
Location:
Wiesner Building, E-15, Bartos Theater
20 Ames St, Cambridge, MA 02139 (Directions)
Networking—5:45 PM, Dinner—6:45, Meeting—7:30 PM.
Menu:
Vegetarian option available on request
Dinner Prices:
Register on/before
DINNER Reservation Date
Late Reservations
Based on Availability
NES/OSA Members and their guests
$30.00 each
$35.00
Non-members
$35.00 (See NOTE Below)
$40.00
Students
Free
$5.00
Post-Docs
Free
$5.00
NOTE: The NES/OSA has not changed dinner prices in several years but has been facing higher costs. We have increased the cost of dinner by $5 this year. We will try to accommodate late reservations but cannot not guarantee that a meal will be available.
General Information on NES/OSA Meetings
Cancellations and No-shows:
If the meeting must be cancelled for any reason, we will try to call you at the phone number you leave with your reservation. Official notice of cancellation will be on our answering machine.
We have to pay for the dinners reserved as of the Tuesday before the meeting, so no-shows eat into our cash reserve. If you will not be able to attend, please let us know as early as possible. Otherwise, no-shows will be billed.
Membership Rates:
| | |
| --- | --- |
| Regular members | $15.00 |
| Student members | free |
NOTE: The extra $5.00 of the non-member dinner fee can be used toward membership dues if the nonmember joins and pays dues for the current year at the meeting.